U.S. War Relics & Other War Relics
P.O. Box 261
Cambridge, MN 55008
WW2 WAR RELICS WANTED!
We Pay You Today!
Call or Text: 763-689-1146
We accept PayPal, Zelle, Venmo, VISA, MasterCard, Discover Card, Checks, Money Orders
_________________________________________
Military Warehouse does NOT support or glorify Nazi Germany or Imperial Japan or any such movement or group. War souvenirs like these were brought home by our victorious American G.I.s in 1945.
Click images to enlarge
Original WWI French Croix de Guerre 1914-1918 with Bronze Palm
This is a near excellent bronze medal with crossed swords and the "palme de bronze" for those cited at the army level. This medal comes with its original ribbon. Item #0428-3
Our price...$55
SOLD
Original WWI Pennsylvania National Guard Medal with Ribbon Bar and Box
This is an excellent complete set including the gorgeous bronze medal with ribbon having a horizontal mounting pin on back, the ribbon bar with mounting pin, the white cardboard case with manufacturer's name printed on top cover, the outer case sleeve, and the original tissue wrap. Item #0428-4
Our price...$50 set
SOLD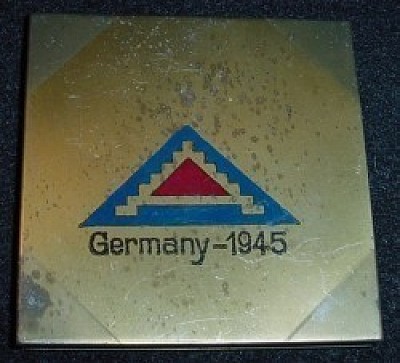 Original U.S. 7th Army Germany 1945 Metal Case with Mirror
This is an extremely fine high quality bronzed-finished metal compact case featuring the U.S. 7th Army insignia and words "GERMANY - 1945" on the top cover.  This heavier case measures about 2 3/4" x 2 3/4" and has a metal hinge along the top edge.  Inside the case top cover is a near excellent mirror with no cracks or chips. The bottom section features a make-up pad and cloth mesh screened square. Interesting souvenir of 1945 Germany. Item #JWK1114
Our price...$25
SOLD
Original 1946 Letter Concerning Nazi Prisoner of War Admiral Otto Schultz
This is an interesting historical original letter regarding Kriegsmarine Admiral Otto Schultz, a recipient of the Knight's Cross of the Iron Cross. This letter gives permission "for the surrender, to the bearer, of the suitcase and all its contents, belonging to Admiral Otto Schultz" that was mistakenly delivered to "PWE 20" (Steinlager Allendorf). Steinlager Allendorf was where Nazi general and staff officers such as Franz Halder and Heinz Guderian were interrogated after WW2. This letter measures about 6" x 8" and has typical fold marks and light stains. Item #JWK1114
Our price...$45
SOLD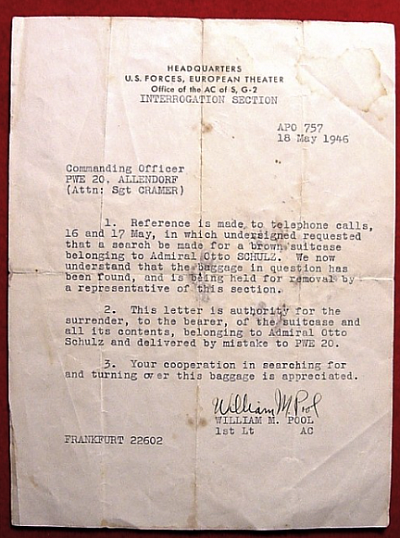 Original Named Imperial British Medal "For Faithful Service"
This is a near excellent high quality full-size medal with the recipient's name "EDWIN DAVID MARSH" impressed on the medal's edge. The original ribbon has a pinback hanger. Item #0506-1

Our price...$35
SOLD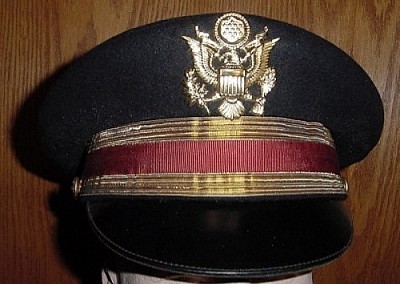 Original Vintage U.S. Military Officer's Visor Hat by Flight Ace
This is a near excellent "fur felt" visor hat with a dark almost black wool body. This size 7 visor hat has the full sweat shield covering under which is the maker's name "FLIGHT ACE, San Antonio, Texas". Excellent leather sweatband is also marked "FLIGHT ACE". Item #0210-18
Our price...$35   SOLD
Subscribe to our "Just Listed" mailing list